WatchGuard Firebox T35 with 3-yrs Basic Security Suite Rs 87380.00 INR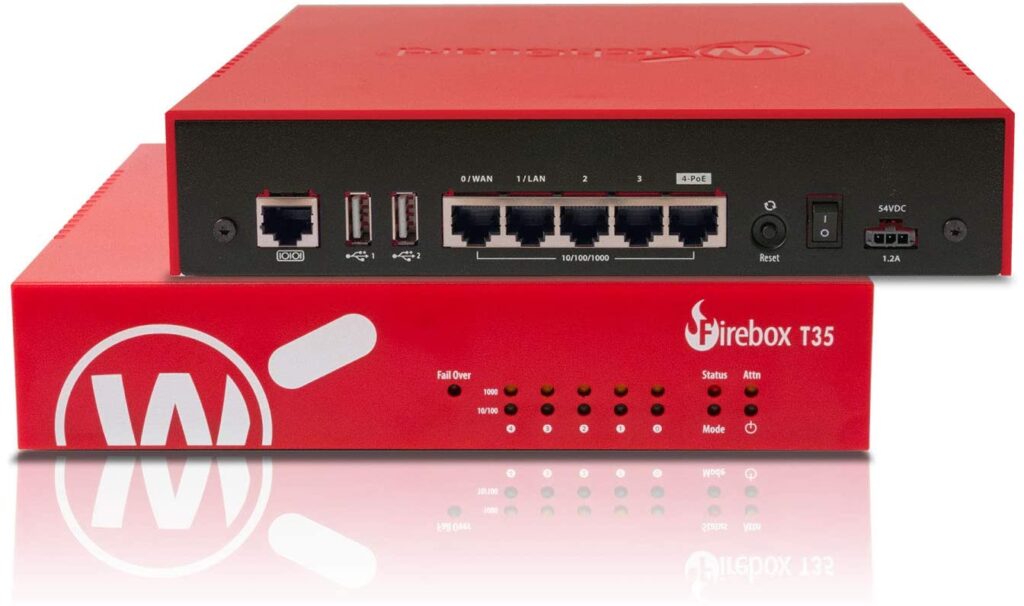 Big Security for Small Businesses
Small businesses and remote locations have long been thought of as soft targets for attackers. WatchGuard Firebox T35 and T55 tabletop appliances bring enterprise-level network security to those small office/branch office and small retail environments that matches the reality of today's distributed work style.
Perfect as stand-alone solutions for a small office, the Firebox T35 and T55 are also ideal for larger organizations that want to extend easy-to-use, full UTM protection for remote workers and smaller sites. With WatchGuard Total Security Services, these appliances are small-footprint, cost-effective security powerhouses that deliver nearly every feature present in WatchGuard's higher end UTM appliances, including all security capabilities such as ransomware protection and data loss prevention.
SD-WAN with Simple Deployment
Get all the benefits of SD-WAN with dynamic path selection features and strong security combined – no need for a specialized appliance. Moreover, deployment is easy with RapidDeploy – a powerful, cloud-based deployment and configuration tool that comes standard with WatchGuard Firebox appliances – all you have to do is power up the appliance at a remote site and connect it to the Internet. The appliance "phones home" and downloads the correct configuration settings from the cloud. It's that easy.
Easy Management with Deep Visibility
WatchGuard Dimension, which is included with every Firebox, is a cloud-ready solution for distilling network security threats, issues, and trends into a detailed picture of your network. Ideal for small businesses that lack a big IT team. And if you're using WatchGuard appliances to protect your network perimeter, our intuitive, centralized management console enables quick copying of corporate policy across multiple appliances, for huge cost and time savings.
Wired or Wireless – Your Choice
The T35 and T55 are also available in wireless models that include optional dual-band 802.11ac technology for much more responsive wireless network connection and expanded range on 2.4 GHz or less-crowded 5 GHz band. Take advantage of the built-in wireless guest services to segment the Internet for customers/guests for even tighter security.
WatchGuard Access Points
T35 and T55 appliances also include a Power over Ethernet (PoE+) port to power a peripheral device such as a cloud-managed wireless access point from WatchGuard or a third-party security camera, allowing administrators to extend the reach of their networks without having to run costly AC power to remote devices. PoE+ ports aren't often found on tabletop appliances, making Firebox T35 and T55 unique appliances for SMBs and distributed enterprise organizations.

Firewall Firm is an IT Monteur company, you will be redirect to https://my.itmonteur.net

For more details, please contact
Sales :+91 9582 90 7788 | Support : +91 9654 01 6484