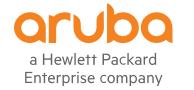 Outdoor access points.

Aruba outdoor APs provide seamless connectivity for large public venues like parks and parking lots, as well as smaller pool areas and loading docks. Point-to-point wireless options provide Wi-Fi mesh backhaul and 60GHz speed to adjacent buildings.
Engaging experiences delivered with automation and security.
Always on Wi-Fi

With Aruba Wi-Fi 6 technologies APs provide true resiliency and flexibility for 24/7 network access at multi-gigabit speeds – even during maintenance windows or unplanned outages.

AI powered network operations

Advanced RF optimization and machine learning deliver service assurance, intelligent power management savings, and ClientMatch for sticky client resolution.

Wi-Fi authentication enhancements

WPA3 and Enhanced Open improve user and guest encryption, while PEF uses role-based access control and DPI to isolate and segment traffic.

Network Operations and Assurance

Manage Aruba APs, switches and SD-WAN gateways through a single pane of glass

Gateways and Controllers

Enhanced WLAN performance, security, and SD-WAN connectivity for the campus and branch.

ClearPass Policy Manager

Centralized policy creation and enforcement for multi-vendor wired and wireless networks.