Sophos XG 115
Sophos XG 115 Firewall Hardware with 3 year License Rs 64540.00



XG Series Firewall Appliances
Our XG Series hardware appliances are purpose-built with the latest multi-core Intel technology, generous RAM provisioning, and solid-state storage. Whether you're protecting a small business or a large datacenter, you're getting industry leading price:performance, and the ultimate in flexibility, connectivity and reliability in every form factor.
Desktop Models
Our Desktop firewall appliances support all the security features of our larger appliances but in a compact form factor and at a fraction of the cost. Whether you're looking for an all-in-one security solution for your branch office, or need next-gen firewall security for your growing business, our range of models can offer you many features not available anywhere else.
XG 115 / 115w

Rev.3
Performance
4 GBPS
1000 MBPS
490 MBPS
1220 MBPS
600 MBPS
Product Highlights
All features supported on every XG 1xx model and most on XG 86
Every model available with optional integrated 802.11ac Wi-Fi
2nd power supply option for all XG 1xx models
Expansion bay on all XG 125/135 models for 3G/4G module
Optional 2nd Wi-Fi radio module on 135w model
SFP port, e.g. for optional DSL modem, on all XG 1xx appliances
Accessories
3G/4G Connectivity
For 125/135(w) Rev.3 models only
Our Desktop appliances are often deployed in remote locations where flexible connectivity options are essential. The expansion bay on our XG 125 and 135 models provides the option to add a 3G/4G module to your appliance. The module can be securely mounted and is then managed from your XG Firewall console.
Better performance with the latest standards supported (LTE cat-6, up to 300 Mbps download/50Mbps upload)
Fully protected from theft or damage
Our optional 3G/4G module comes in two different versions – Europe/Americas and Asia-Pacific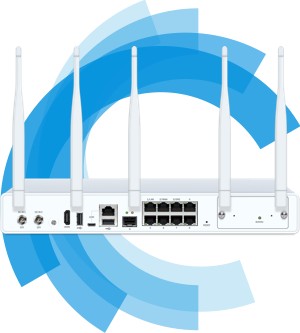 DSL Modem
For 1xx Rev.3 and 106 Rev.1 models only
Use the SFP port on all of our XG 1xx models to add DSL connectivity to your appliance. Get rid of your router and connect your appliance directly to the DSL socket on your wall. This means one less piece of equipment to manage and a fully integrated solution. Our optional DSL modem supports most VDSL2 standards with download/upload speeds up to 100 Mbps.
2nd Wi-Fi Radio
For 135w Rev.3 models only
Improve the Wi-Fi coverage and performance in your office by adding a 2nd Wi-Fi radio to your XG 135w appliance. Adding a second radio to our models with built-in Wi-Fi, allows you to broadcast the 2.4 and 5 GHz bands simultaneously and adds two additional antennas for an overall better Wi-Fi experience.
Rack mount Kits
For all Desktop models
We offer optional rack mount kits for all of our Desktop models, giving you the possibility to mount even the smallest Sophos XG Series appliance in your existing rack. The appliance can be mounted facing forwards or backwards for easier acces to the Ethernet ports.
Redundancy
For 1xx(w) Rev.3 and 106(w) Rev.1 only
Redundancy features on Desktop appliances are rare but at Sophos, we know how important it is to keep things running, no matter what size of business you have. The second power supply option provides you with additional peace of mind, should the first one fail.

Firewall Firm is an IT Monteur company, you will be redirect to https://my.itmonteur.net

For more details, please contact
Sales :+91 9582 90 7788 | Support : +91 9654 01 6484