The Check Point Firewall & Compliance Check Software Blade protects endpoints by controlling inbound and outbound traffic and ensuring policy compliance, with centralized management from a single console. Definable zones and security levels protect endpoint systems from unauthorized access.  Integrated stealth technology makes endpoints invisible to attackers.  This software blade is easily managed by unified Endpoint Security Management.
We are India based Check point dealer, offers various brands of firewall solutions with best price. To know more detail about Check Point firewall contact us.
Next Generation Firewall (NGFW)
Check Point's Next Generation Firewalls (NGFWs) are trusted by customers for their highest security effectiveness and their ability to keep organizations protected from sophisticated fifth generation cyber attacks. Offered via the Check Point Infinity architecture, Check Point's NGFW includes 23 Firewall models optimized for running all threat prevention technologies simultaneously, including full SSL traffic inspection, without compromising on security or performance.
Checkpoint Next Generation Firewall (NGFW) Features
Application Inspection and Control
Supports security policies to identify, allow, block or limit usage by leveraging the world's largest application library with more than 8,000 web 2.0 applications
Physical, virtual, public or private, Check Point NGFW's provide consistent security across your entire infrastructure
Advanced Threat Prevention
Best-in-class threat prevention across our firewalls keeping business everywhere protected from the latest large scale, multi-vector Gen V attacks
Checkpoint Next Generation Firewall is More Than Just a Firewall
Check Point Next Generation Firewalls
Integrating the most advanced threat prevention and a consolidated management, our security gateway appliances are designed to prevent any cyber attack, reduce complexity and lower your costs.
Check Point Small Business Firewall700/900 Series | < 300 UsersThe strongest protections for the business, featuring high performance and simplified management.
Check Point Small Business Firewall

700/900 Series | < 300 Users

The strongest protections for the business, featuring high performance and simplified management.

Check Point Branch Office Firewall

1400/3000 Series | 5-100 Users

Enterprise-grade security in a small form factor, ideal for branch and small office.

Check Point Midsize Enterprise Firewall
6000 Series | 100-2500 Users
The power of Gen V in a single security gateway engineered to meet all your business needs today and in the future.

Check Point Large Enterprise Firewall

15000/16000 Series

Comprehensive security protections in a scalable, easy to manage configuration, preferred for large enterprises.

Check Point Data Center and High-End Enterprise Firewall

23000/26000 Series

The most comprehensive protections with data center-grade hardware to maximize uptime and performance.

Check Point High Performance and Scalable Platforms Firewall

44000/64000 Series

Multi-bladed, chassis-based security systems scale up to 66,000 SPU to support the needs of growing networks.
Desktop Firewall
The desktop firewall protects the integrity of endpoints by regulating inbound and outbound traffic. Definable zones and security levels prevent malware from infecting endpoint systems, block targeted attacks and stop unwanted traffic. Stealth technology makes endpoints invisible to potential attackers. Check Point leverages 17 years of Check Point firewall technology leadership.
Compliance Check
With compliance scanning, endpoint systems are scanned for compliance with corporate security policy. Systems failing compliance can be directed to remediation.Administrators can ensure that endpoints are compliant in a number of different areas including:
Centralized Management
The Firewall & Compliance Software Blade is centrally managed by the Endpoint Policy Management Software Blade, enabling central policy administration, enforcement and logging from a single, user-friendly console. Centralized management offers unmatched leverage and control of security policies and multiple deployment options offer easy installation and minimize user impact, for a reduced overall cost of operations.
Integrated into Check Point Software Blade Architecture
Endpoint Security Software Blades from Check Point bring unprecedented flexibility, control and efficiency to the management and deployment of endpoint security. Choose from six Software Blades to deploy only the protection you need, with the freedom to increase security at any time from a single central management console.
A Leader in the 2018 Gartner Enterprise Network Firewall (ENFW) MQ
The most advanced threat prevention, SandBlast,

continues to innovate and enhance anti-ransomware and CPU level emulation capabilities, improving performance, prevention and protection against zero-day exploits

Completeness of security vision,

protecting small to midsize enterprises against even the most sophisticated attacks with a comprehensive product portfolio including Next Generation Firewalls and a focused SMB strategy providing multiple UTM models supporting Internet, VDSL and 4G/LTE interfaces with built-in routing capabilities to the enterprise

Largest offering of security solutions,

covering network, cloud, mobile and endpoints. Check Point security gateways features include granular network-based DLP with over 700 premade data types for Web, FTP, and Email traffic

Top tier security management, R80.10,

features centralized management control across all networks and cloud environments, increasing operational efficiency and lowering the complexity of managing your security
Check Point Has Highest Security Effectiveness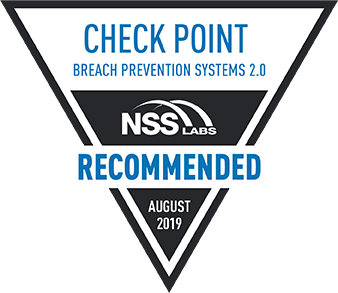 Check Point achieved the highest security effectiveness score in the 2019 NSS Labs Breach Prevention Systems (BPS) group test. Check Point's Next Generation Firewalls and Advanced Endpoint Security achieved a 100% block rate, and earned a "Recommended" rating. Highlights of Check Point's results:
98.4% overall security effectiveness
100% block rate
100% malware prevention, email and web
100% exploit resistance
0% false positives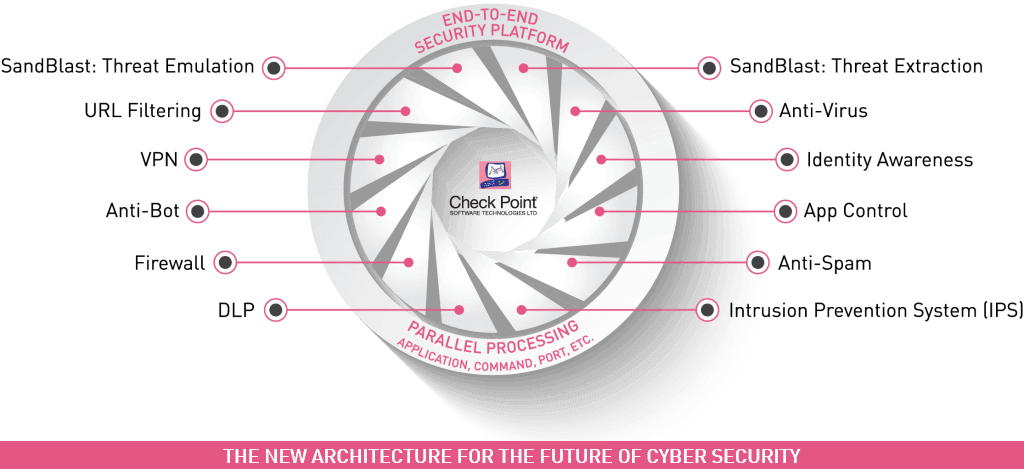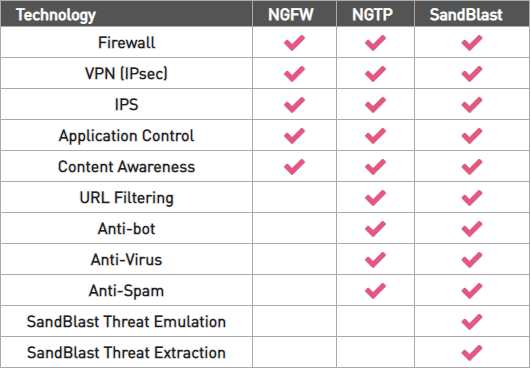 Checkpoint Firewall Price in India
Checkpoint Firewall
Price

620 Next Generation Threat Prevention Security Appliance

The Check Point 620 appliance is an all-inclusive security appliance for small businesses (of up to 10 users). Built on the Software Blades Architecture, the 620 Appliance offers the same enterprise-class Check Point security that is used by all of the Fortune 100; on a compact desktop form factor.

Hardware Specification

Desktop form factor
10x1GbE Ports
Wireless (optional)
Recommended for up to 10 users

Rs.80,558/-

640 Next Generation Threat Prevention Security Appliance

Hardware Specification

Desktop form factor
10x1GbE Ports
Wireless (optional)
Recommended for up to 25 users

Rs. 114,038/-

680 Next Generation Threat Prevention Security Appliance

The Check Point 680 appliance is an all-inclusive security appliance for small businesses (of up to 50 users). Built on the Software Blades Architecture, the 680 Appliance offers the same enterprise-class Check Point security that is used by all of the Fortune 100; on a compact desktop form factor.

Hardware Specification

Desktop form factor
10x1GbE Ports
Wireless (optional)
Recommended for up to 50 users

Rs. 162,600/-

770 Next Generation Threat Prevention, support and services bundle

The Check Point 770 appliance is an all-inclusive security appliance for medium size businesses. The 770 Appliance offers the same enterprise-class Check Point security that is used by all of the Fortune 100; on a compact desktop form factor.

Hardware Specification

Desktop form factor
18x1GbE Ports
Wireless (optional)
Supports external 3G/4G/LTE modem

Rs. 2,22,155/-

790 Next Generation Threat Prevention, support and services bundle

The Check Point 790 appliance is an all-inclusive security appliance for medium size businesses. The 790 Appliance offers the same enterprise-class Check Point security that is used by all of the Fortune 100; on a compact desktop form factor.

Hardware Specification

Desktop form factor
18x1GbE Ports
Wireless (optional)
Supports external 3G/4G/LTE modem

Rs. 2,86,129/-
Firewall Firm is a Best Checkpoint Firewall Provider Company in India
For All type of Checkpoint Firewall Security and Support, Please call us on
Sales : +91 958 290 7788
Support : +91 965 401 6484